TURNKEY GROUND POUNDERS!

After seeing many trucks that have been converted by other manufacturers, we thought they were lacking. We saw numerous packages that offered a performance image that far exceeded the capabilities of the trucks actual performance level. Even supercharged models lacked power. One thing was for sure, considering the price, we demanded more.
Volumetric efficiency is taking the place of cubic inches. Small-displacement engines have become lighter, more efficient, and are capable of making serious power. We expanded on this by adding forced induction (Superchargers OR Turbochargers) and reprogramming the existing Electronic Engine Controls. We have succeeded in generating and DOCUMENTING over 1000 HP and 933 LB/FT of torque with a 5.4L engine!
The goal was 10's, and Mark did it. In a 5650 lb SUPERCREW! 10.96 second 1/4 mile E.T.s have been documented in Project S'CREW.
Mild to wild, it's your choice! 400-1250 HP!
WE are FORD, GM, and ASE certified.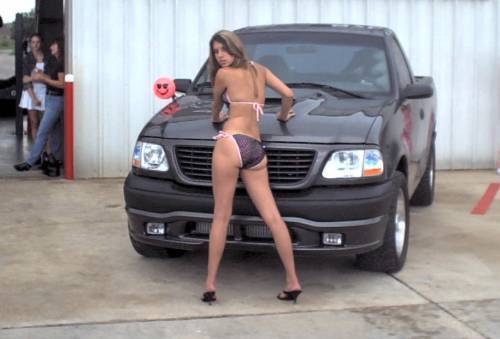 Trixters Racing LLC's supercharged and turbocharged company vehicle projects...
These 5 were daily driven by CRASH over the years!
From 1999 to present!
Project SKUNKWORKS - Our latest shop truck, and a very trick Expedition - A ProCharger/Centerline showcase!
Project '98 - Our very FIRST supercharger purchase and install. The one that started it ALL!
Project '00 - A ProCharger equipped "Perfect Sleeper" (Work truck stock LD trim)!
Project '02 TURBOCHARGED!
Project 05! Crash's 600 HP ProCharged 05 Mustang GT, and a sleeper!
Lizzie Chick! My daughter's Explorer. Just waiting on a supercharger!

Trixters Racing LLC flagships!
Special thanks to Mark Lancaster and Chris O'Bryan!
Images and setups in this category are Copyrighted by Mark Lancaster, Chris O'Bryan, Derek Byford, TLTCI, and Trixters Racing!
Α
Mark Lancaster's 1250 RWHP F-150... The 10-second S'CREW!
Dyno MAXED... 1000 HP / 993 LB/FT! (Click here for the graph)!
----------------------------------------------------------------------------------------------------------
Ω
Chris O'Bryans ProCharged Supercrew... Project REDRUM!
Images and setups Copyright Trixters Racing LLC and Chris O'Bryan!
Project REDRUM !!! - A DOHC F-series ProCharger equipped monster. 700 HP at only 5300 RPM, and redline is 7000!

Major projects...
This section is under construction! I can post no more here due to non-disclosure agreements. Copyrights and patents apply to all of the intellectual property found here. And elsewhere on this site. We reserve these rights.
Trixter's Racing and Power Surge Performance...
A combined effort
(A PROCHARGED Top Truck class Lightning! Yes, you heard me right. And it's a BIG ONE too.)
The Trixters Racing LLC Mascot - The Joker!

Customer projects!
Brian's toy! A remote install, Brian flew Crash out for a remote ProCharger installation!
Project '09 ATV Tinker's SuperCrew
Justin's Toy - Another trick and supercharged Expedition!
Black and Blown! - Another very trick and ProCharged Expedition!
Project Lost Soul - A ProCharged 2005 Mustang GT... And very fast!
Project Silver Son - A Whipplecharged V-10!

Members rides!
We did not build these or even sell any parts to these guys. We have consulted on a limited basis however... They just have some very cool trucks!
ON 3 GO! A ProCharged 2012 5.0 L F-150!
DEATHRIDE - A Kenne Bell equipped Supercrew. Black and bad ass!

Mad Enterprise - A DOHC 5.4 L Whipple-charged monster, very clean and FAST!
Mike Dunn - Owner of Mad Enterprise... And expert machinist... Passed away at the end of 2013.
His contributions to the F-150 Online community and his WHIPPLECHARGED DOHC 5.4 L F-150 itself has made a mark in history; his parts making their way under our hoods from Project 02 to REDRUM. This project truck deserves a special place on our site.
Our condolences go out to his family and we rest easy knowing a very good man and good friend is in God's hands now.
And for that, we are eternally grateful.
This project page is an example of Mike's expert craftsmanship as well as a "Gearhead's eulogy" (The MODs list). He is sorely missed. His intellectual property related to HUGE performance gains on the ProCharger is hereby recognized, yet will stay alive in his SPIRIT. Not production.
THIS PAGE IS DEDICATED TO OUR MACHINIST. See one of his works of art...HERE.
At peace... Mike Dunn

Project 02 at the CCS Tuning grand opening.