Got-Boost?! On that V-6?
Project Blue Ballz!

This project is our first to use the new Explorer Express Roots-type blower. It is available for the Explorer and Ranger, as well as the Mazda equivalents... And they are as fast as a Lightning!!!
Project Blue Ballz is an '01 Ford Ranger Edge 4 door 4x4 (4.0 SOHC).
18X8.5" ION series wheels are wrapped in 275/60 18 Nitto Extreme 404s.
a Westin safari bar with Hella series 500 lights is installed.
Performance modifications include a Magnaflow muffler and a Superchips power tuner.
Dyno results are 400RWHP!
The Explorer Express X SPEC 6 PSI supercharger is installed with a MAC intake tube. 4.10 limited slip differentials are also installed.

Stock, this truck ran a 10.40 @ 65mph in 1/8th mile. 15.63 @ 90mph in the 1/4 mile.
After the modifications it ran a 9.43 @ 74mph in 1/8th mile. 1/4 mile results are pending.
A few modifications... The good stuff is detailed below. This truck is nearly as fast as a stock Lightning!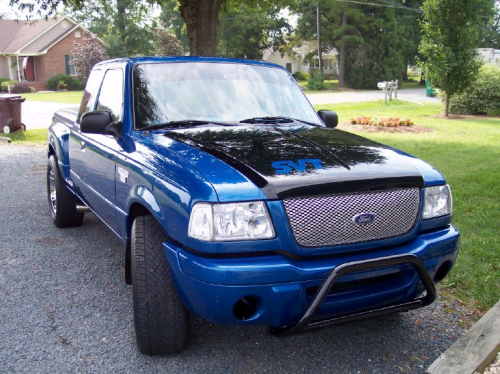 New SVT paint scheme!!!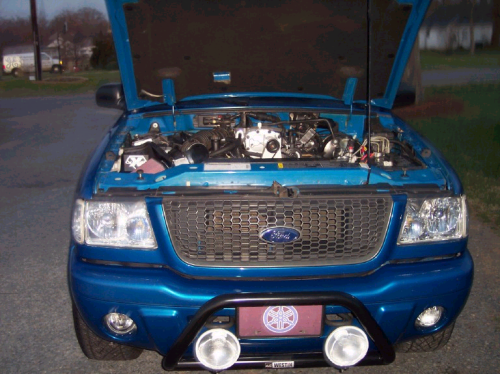 What could that silver thing under the hood be? LOL!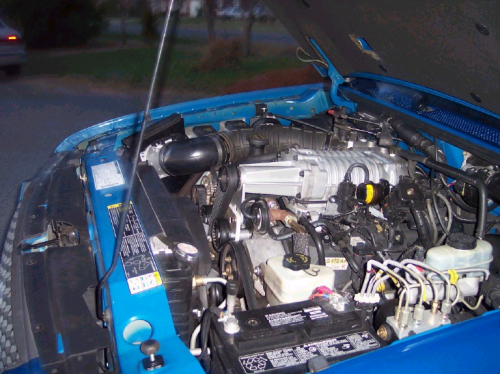 A close up image of the X SPEC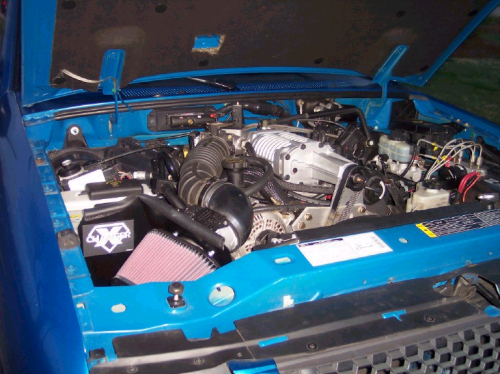 Passenger side details... And the cold air box.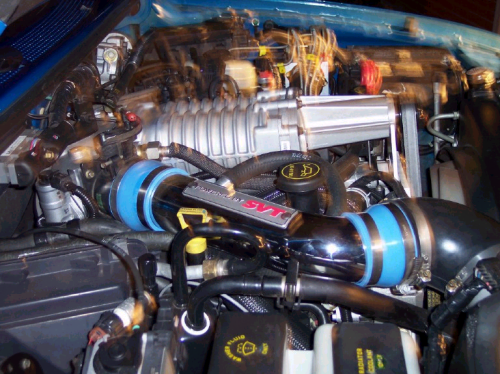 Details on the inlet duct.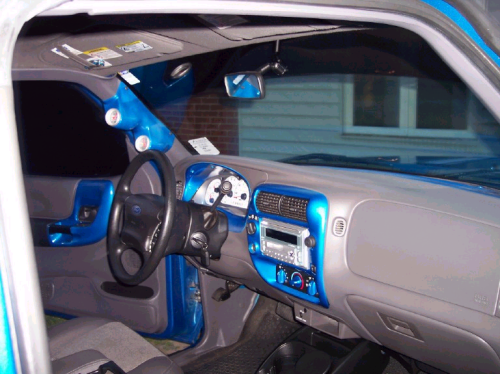 Nice detail work throughout! VERY clean, but not overbearing... This is a nicely executed driver compartment!!!
Nick Blakely and his partner are painters as well as automotive technicians. They specialize in interior modification. Like what you see? You can send him your interior trim panels for prep and paint! They can use the color code of your body (see the example above) OR use a contrasting color! As you can see, this is QUALITY WORK, and the look is becoming EVER MORE POPULAR on SHOW trucks!!!
In addition, they will soon become one of our installing SUPERCHARGER / TURBOCHARGER dealers in the North Carolina area!!!
Contact Nick Blakely at 704-507-3420.
Six banger performance just hit a new level! Both Explorer Express and Whipple superchargers are available for this engine!