Project Turbo S'CREW!
How about a CUSTOM turbocharger for that F-150?

TLTCI's Turbocharged F-150... Custom fabricated to Mark's specifications, this setup makes stupid power!
Details within these next three pages... From ProCharger to Turbocharger, HIGH 12s to 10s have been achieved! You can follow this project's progress over the next 4 pages. Video and graphs are included!

We have RE-WRITTEN the performance pages... Project "Turbo S'CREW" is one to watch! Update: We have since MAXED out the dyno at 1000 HP/933 LB/FT! (Graph)
The goal is to build the fastest STREETABLE combination possible. This means all accessories will remain in place (save the belt driven fan).
In the beginning, the ProCharger P1-SC was installed. With this supercharger, we have dyno proven 430 HP and 528 FT/LBS (5.4 L) is easily attainable (at 1 bar). We have upped the ante once again and completed our turbocharger system for F-150s!
With the ProCharger installed, Project SCREW (yes, a 4-door) has documented a 12.80 (ProCharger and a 50-shot of N2O). NOW this truck is equipped with a T-88 turbocharger! A Renegade class engine has been ordered and is in transit. We expect to find the HP limits of the 5.4L by turning up the wick! Once the limit is hit and the engine blows up, the Renegade engine will be installed!
Here you will see this Stock S'CREW transformed from a ProCharged beast to a TURBOCHARGED SUPER TRUCK!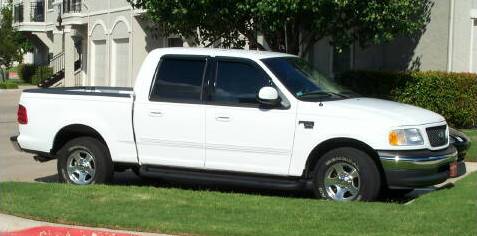 This is the LAST image you will see of this truck in stock form. Shot just after delivery.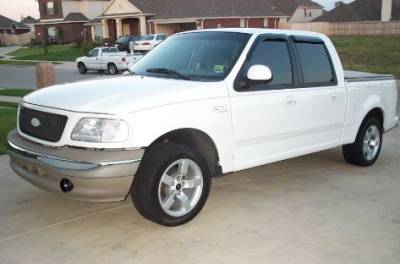 Minor mods, basically still stock, but NOT FOR LONG!... Lightning Wheels, clear markers, and RAM-AIR. Next comes the drop!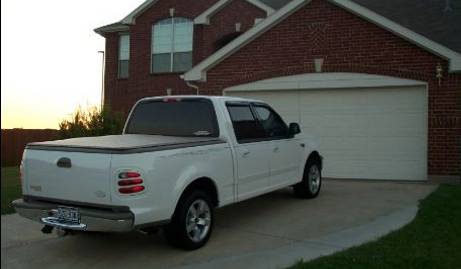 A nice lowered stance!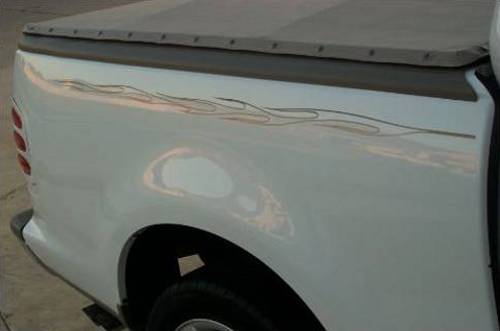 Early custom flames!!! These match the Harley Davidson SCREW flames, and are available in any color combination. Beige matches all the custom dyed bed, grille, bumper, and interior trim (All custom dyed by Mark himself). The bedrail caps were replaced with Beige as well as the tonneau cover.

Here is a glimpse of what you will see in the next three pages... And the HARDware!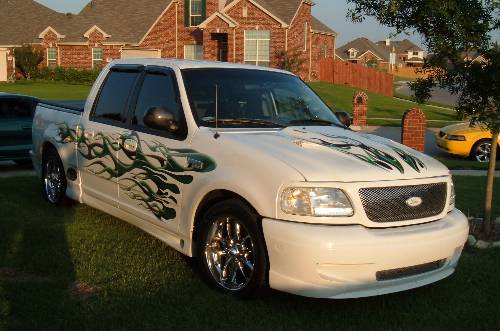 Latest modifications include a billet fuel door, and a Lightning type front air dam. A flush tonneau cover and carpeted bed liner have been installed. A Speed grille and a Ram Air hood will complete the look, and provide cool, fresh air to the turbo!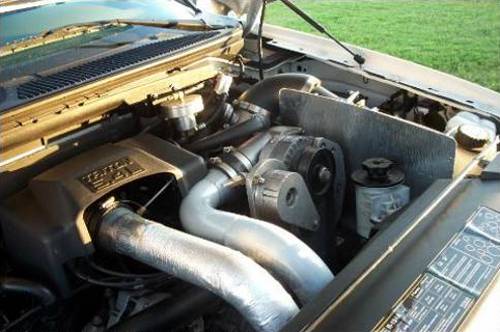 The ProCharger and heat shielding installed.
Weighing in at 5650, this truck has documented a 13.90 with the ProCharger only, and has backed it up. Once Nitrous Oxide was added, a 12.99 upped the ante and pushed F-150 performance to a new level.
Best E.T. to date (5/25/03)? A 12.80 pass (ProCharger and a 50 shot of N2O). More to come once the turbocharger installed tuning is complete. MUCH MORE!
Now we have REWRITTEN the book on truck performance by building our own turbocharger setup. You will find details on this new setup on page 2. This kit is in production and will be available for 4.6 and 5.4 L TRITON engines. Turbocharger fabrication is already complete on Project '02.
(The good stuff!)