Project '98
A Magnacharged 4.6L 5-speed.

Our first BLOWN company truck, and SECOND completed supercharger install, this truck was the result of a '60s approach to building a hot rod... A high power - to - weight ratio. And by tapping into my experience with FOX BODY 5.0s, I insisted on a 5-speed, and it paid off by getting down the track faster!
Even modified trucks lacked the grunt to match the image they portray. Here you will find FORM FOLLOWS FUNCTION! This is why Mumbly ordered the blower for his Roush!
Project '98 is the truck that is starting it all for Trixters Racing. Talk about base models. This is a LD (Light duty work truck). This means no creature comforts, no power ANYTHING, and also no CHROME. And while cranking windows down may be an inconvenience, the power it makes negates the effort. And it didn't even come with an FM radio. But ALL I want to hear is the howl of the Eaton anyway!

And this is Project GodZilla. Fred Glenn's Magnacharged 4.6 automatic. My very first customer and VERY FIRST SUPERCHARGER INSTALLATION, I have to give HIM credit for helping me get Trixters Racing up and running. Thank you for all of your support on the forums, Fred!
The one that actually started it all. It took me 14 hours to install his Magnacharger, just to ensure everything was RIGHT. And it came out SWEET!

The concept...
We combined the latest in Electronic Engine Control systems (EEC V) technology and an Intercooled Magnacharger Roots-type supercharger... Top quality parts and OEM reliability were a requirement. We offer only the best. And this setup is based on Eaton compressors (Used by many OEM companies for reliability), and the M-112 blower is used on the Lightning.
A custom chip by Mike Troyer rounds out the combination and makes good power, while eliminating the top end governor, which I HAD to do away with.
This truck was specifically ordered DEVOID of any power options or creature comforts. NO tilt, cruise control, power windows, locks, pedals, or chrome. This is the lightest F-150 configuration you can find, and LD trim makes this 14 second truck a perfect SLEEPER.
Here is where we started. This truck was equipped with a 4.6L engine, a 5-speed manual transmission, and a 3.08 rear gear. But it STILL ran 14s, where it started with 200 RWHP and running 16s, after altering it with only a 5 PSI boost from an intercooled M-90, along with a decent tune from Mike Troyer!
It looks like a work truck, and by looking at the wheels and looking under the hood, you would never know it was modified. Not the BFG tires, they give it a much more muscular look and they fill the wheel wells perfectly! Hell, you can't tell it's supercharged by even opening the hood! Take a look!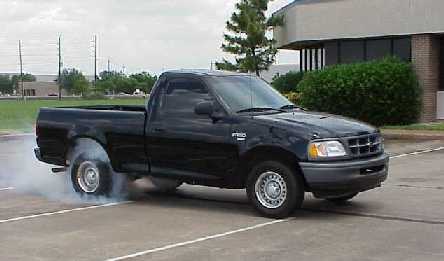 The burnout was performed in STOCK TRIM. It makes good power with the stock 4.6 and the 5-speed!
It is 1.2 seconds quicker than a REG CAB STYLESIDE AUTOMATIC, both in stock trim, no blowers. Heads up, at Texas Motorplex, this is documented!
A facelift, new shoes, and a 2" drop in the rear. Subtle mods, but with much improved handling due to 2" more rubber on each corner, and a more menacing look. The BFG tires and just losing the amber markers make a major improvement in aesthetics. Notice how the clear markers give the headlamp assemblies a unitized look? And no amber to break the lines.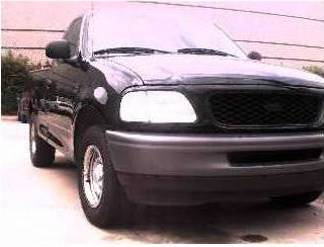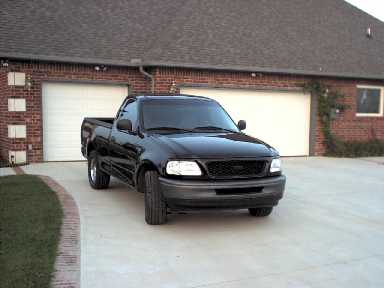 Can you tell the tires are 275/60 16s? Stock, it came with 235/70 16s. The perfect plus size, with 2" more rubber to the ground at each corner, and no change in calibration. They fill the wheel wells nicely, and it handles MUCH better with the 2" drop in the rear. Much less oversteer, which is a major problem on a blown truck with a light ass end.

It was originally planned this truck would remain in stock trim to keep the sleeper look, however, through interaction with other F-150 owners at F-150Online, the truck took on a new shape, and MUCH more power!
A sleeper... Until I convinced myself to add the Cobra hood.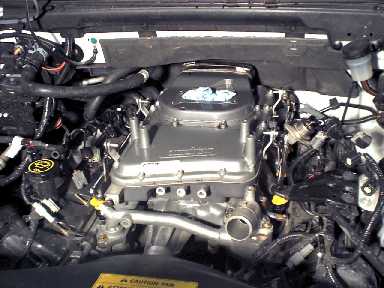 Here is the Magnacharger assembly installed, at 2000 miles. This unit is almost completely concealed once the installation is complete.
It takes a trained eye to recognize the changes made to facilitate the compressor (UNDER the intake manifold), and it is not recognizable for unsuspecting competitors... But I will say this... This blower howls like a banshee! It commands attention at WFO!
Like the Dakota R/T owner equipped with a 150 shot that I spanked on Northwest Highway...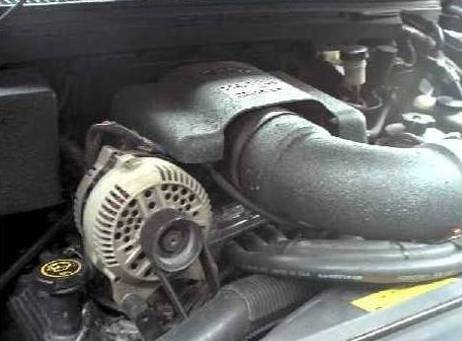 Is there really a blower in there? All most will see is a BIG inlet duct. Yes, overkill, but I found that by installing even a K&N filter, this induced a huge restriction, tested with a vacuum gauge. But the real clues are the relocated alternator and the intercooler coolant lines. I now mount them straight forward and above the radiator instead of around the fan shroud. This cleans up the look and saves miles of intercooler hose needed. And it is NOT cheap radiator hose. It is STRONG and reinforced, and is NOT cheap.
The Dodge guys could not spot it with the hood up and a flashlight!!! They never understood how I would want to park a bone stock truck next to all the other high performance cars at the show... LOL! They figured it out...Once I spanked a N2O injected Dakota R/T... Heh!

So, I look forward to seeing where Trixters Racing goes. This is just the beginning. We are now proud sponsors of F-150 Online, and Steve created a "Superchargers and Turbochargers" forum to showcase all blown F-150s for years to come... My dream is to see hundreds of BLOWN F-150s hit the streets.
We now have 3 here in the Texas Chapter, and Flatsman (My first and most loyal customer) is located in the Florida Chapter. Crash!, Mumbly, Flatsman, and SkidmarkRacing are the first to be supercharge members of F-150 Online (F-150s, not Lightnings), but we intend to spread the word! Flatsman's, Mumbly's, and SkidMarkRacing's trucks are damn fast too. Mumbly runs a Kenne Bell, and SkidMarkRacing runs a ProCharger, while Flatsman and I run Magnachargers. But one thing is for sure, all four trucks REALLY attract attention when we mash the LOUD PEDAL! They all SCREAM!
FYI- This truck, STOCK (NO BLOWER) runs the same 10.35s Mumbly runs in his extended cab automatic (Roush Edition). (1/8 mile that is, and proven heads up). This is due to the higher parasitic losses of an automatic. Up to 120 HP in this case. But there is NO DOUBT that his Roush would leave me in the dust in the twisties! The Roush REALLY sticks to the road! A very impressive performer, and all around performance truck.
THEN I bolted on the blower... But SHHH!
I hope this business really takes off. I love my job. Hell, I was able to write off every performance part I installed on this truck. But there is a catch. It's for sale, because it is technically inventory. And it's a rolling business card.
But no one can tell me what I have to sell it for! HAHA!