Mad Enterprise

A 600 HP supercharged 32 valve DOHC equipped F-150!
Professional down to the last detail, these images speak for themselves!
We consider this truck an ultimate sleeper!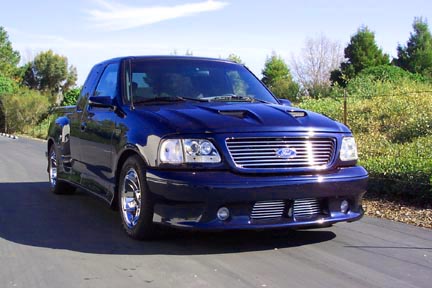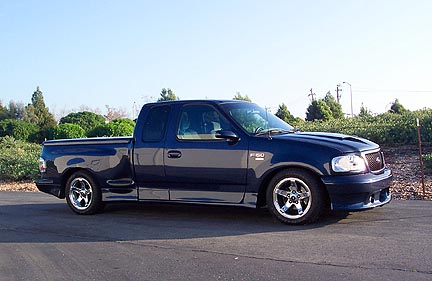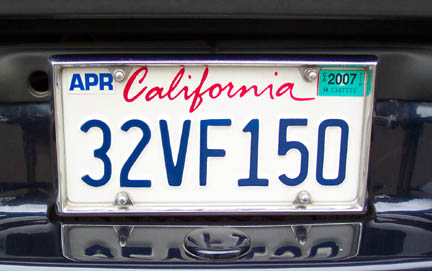 One of only two DOHC F-150s we have dealt with...
Project REDRUM also runs a supercharged DOHC engine.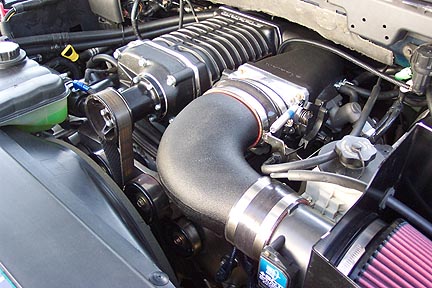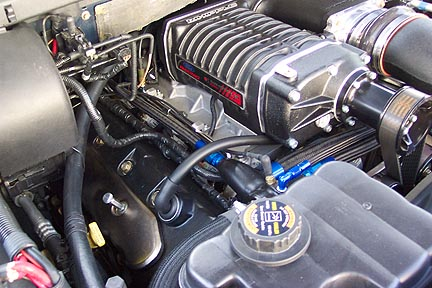 Yes, that is a Whipple supercharged DOHC engine stuffed in there!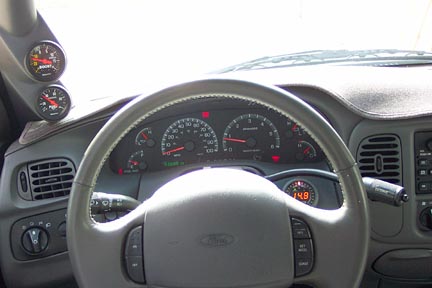 A fully appointed cockpit!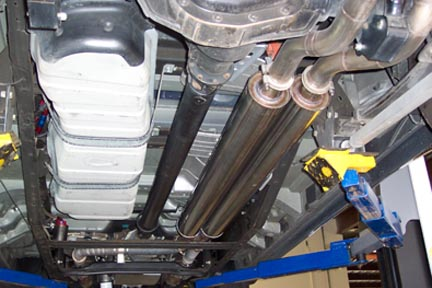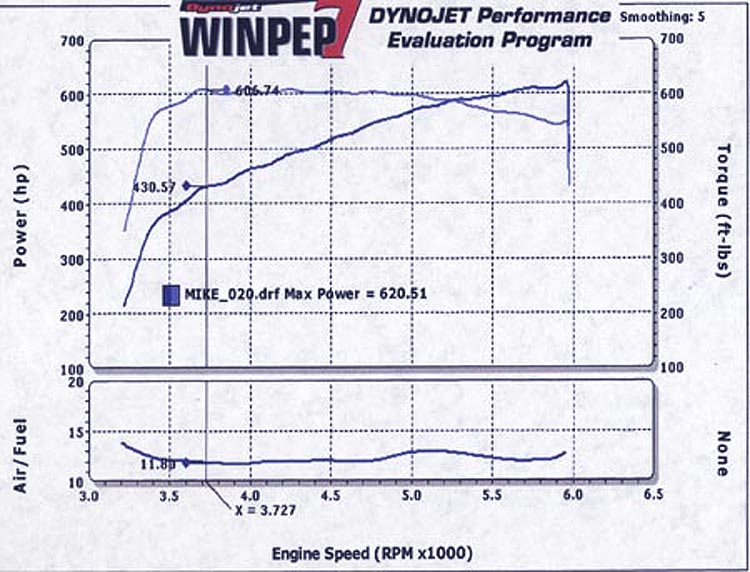 You can't argue with the graph!
MODS LIST
Mods, mods, mods. I don't think there is any part of my truck that I hasn't somehow been
personalized for better performance, handling, comfort or arguably, better appearance.

2002 F-150, XLT, True Blue Metallic.
Dark Graphite interior with power, heated, cloth covered Captains Chairs.
Roush Front Bumper and complete ground effects kit.
Cervinis Hood
Harley Davidson Edition upper and lower Grilles
Clear Corners and Headlights
Lightning Taillights
Lightning Third Tail
Astro Bed Lid and Bed Rug
Chromed Lightning Wheels
Hankook 295-45x18 tires.
Front lowered 4" with Belltech 2" spindles, custom springs, Bilstein shocks.
Rear lowered 6" with flip kit, one leaf removed, Velvet Ride shackles, air shocks in the stock
location plus two additional shocks and my own traction bars.
Lightning Rear Sway Bar
Expedition Console with Temperature and Oil Pressure gauges in custom panel.
Pillar Pod with Vacuum/Boost and Fuel Pressure gauges
Innovate Wide Band installed in dash
32 valve 5.4 engine
CP +.020" forged pistons
Manley H Beam Rods
Mod Max Crank
'00 Navigator heads, street ported, gasket matched, 5 angle valve job
Mild cams again by Dima Elgin (gotta keep it CA smog legal)
Stock Exhaust Manifolds, custom made right side is a mirror image of the left.
All stainless true duals with X, all mandrel bent, inside purge TIG welded.
Magnaflow OBD II high flow cats, primaries still in place
54" all stainless, 3" bore steelpack mufflers (very quiet but low back pressure)
Custom made intake manifold that originally accepted the OE Ported Eaton, now has
been further modified to accept a Whipple.
Whipple Supercharger at 14 PSI
L&S Oil Separator
325 LPH single Bosch Fuel Pump (now maxed)
Single Blade Throttle Body
SCT BA-2400 MAF
Siemens 60# injectors
AN –8 Fuel supply line with canister type filter
AN –6 Fuel return line
Dual OE Heat Exchangers with Fans
DPC Triple Plate (Kevlar), stock stall "Bullet Proof" Torque Converter