Supercharger upgrades!
Looking for more power than the Procharger kits produce "OUT OF THE BOX"?
Here is the answer! MORE BOOST!!!

Out exclusive supplier of custom machined pulleys for RACE applications.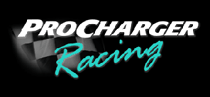 ATI Equipped? Want more bottom-end power?
+3 PSI PROCHARGER CRANK PULLEY prototype for the F-150! Two customers have requested more boost. Two prototypes have been completed and installed (one 4.6 and one 5.4). It has proven to be extremely powerful OFF-IDLE and throughout the power band!!! Testing will continue, and results will be posted on F-150 Online and F-150 World!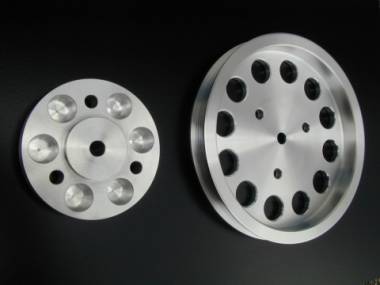 Procharger pulleys are available in +3 PSI increments, This is a two piece unit, which means you are able to increase boost well beyond 12 PSI once supporting engine and drivetrain upgrades have been performed!
This pulley is so large, it requires a custom machined water pump pulley for clearance.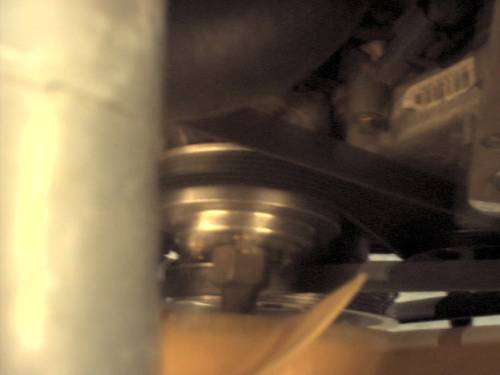 DISCLAIMER-
Well, you knew there would be one in here somewhere, right?
None of the above SUPERCHARGER manufacturers support the modifications offered on this page. This means each respective manufacturer reserves the right to deny warranty coverage due to installation of such parts. When purchasing these parts, you are hereby waiving your right to hold Trixters-Playground or ANY of our respective suppliers responsible for damages incurred regardless of circumstance. We will not be held responsible for engine damage incurred or emission testing failures related to the installation of these parts.
In addition, in purchasing and installing ANY parts from Trixters Racing or it's supporting vendors MAY VOID your vehicle's FACTORY WARRANTY.
Tuning is CRITICAL to reliable use of these parts, and required even on complete systems which include tuning at a set 9 PSI boost level.