PROJECT TURBO S'CREW!!!
OUR FLAGSHIP, AND THE MOST POWERFUL F-150 IN THE NATION!

Our custom T-67 Turbocharger system and 3 core intercooler currently installed, with a custom SCT tune (By Mark himself). A T-88 comes next.
It now has a best E/T of 12.65s and that was at 425/535 RWHP (8 PSI at 112 degree ambient temperatures). 70 degree ambient temperatures yielded 2 PSI more boost and latest dyno? 508/620 RWHP! Turbochargers love to feed on cool air!
A forged engine is currently under construction, and then we will turn up the wick and SPRAY it.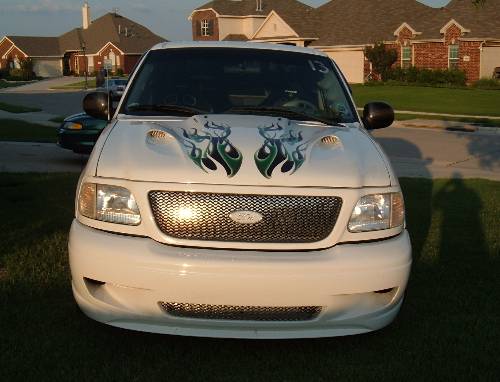 FUNCTIONAL AIR INDUCTION, SPEED GRILLE, STREET SCENE AIR DAM...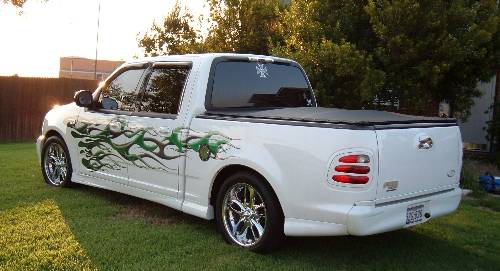 MARK ACTUALLY DESIGNED THESE CUSTOM COMPUTER GENERATED FLAMES.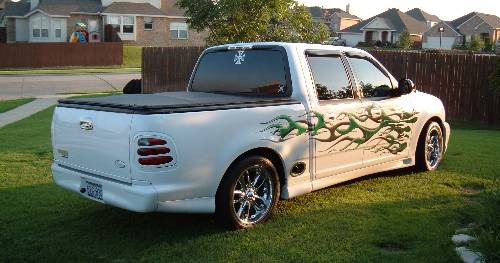 This through bed EXHAUST is FULLY functional, using 3-4" Mandrel bent pipe. FLAMES actually blast from the tip, hence the stainless flange!

CUSTOM F-150 / Expedition Turbocharger systems are now complete! This one made 508/620 at the wheels!
Best E/T is 12.65 with a 112 degree heat index!
The same complete CAT-FORWARD kits will cost approximately $5200.00 !!!
'97-'04 4.6 L F-150 / Expedition Turbochargers Available!
'97-'03 5.4L F-150 / Expedition Turbochargers Available!
YES, Applications Include '97-'04 4.6 L Engines!
Here you can see the location of the turbo, bypass, and FMU. Also note the beautiful Carbon Fiber throttle body cover. The engine bay and interior will be covered in Carbon Fiber!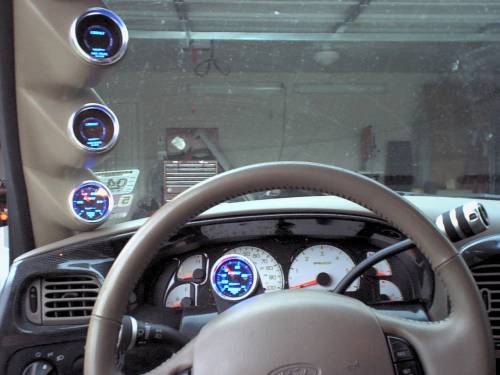 The cockpit. Yes, that is REAL Carbon Fiber, including the gauge overlay!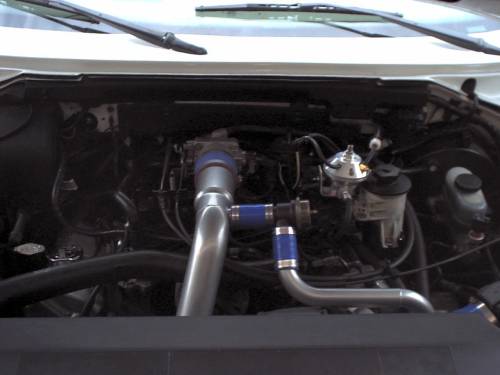 These images show the base system, as it comes out of the box. Ceramic coating on the HOT side, and Powder Coat on the cool side.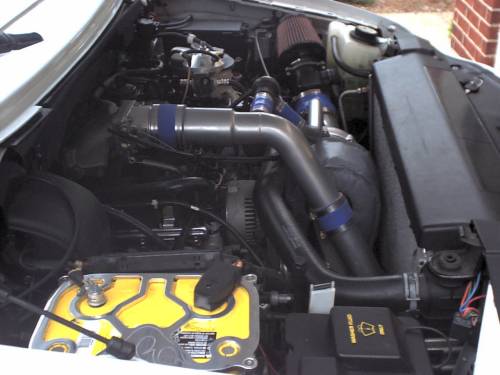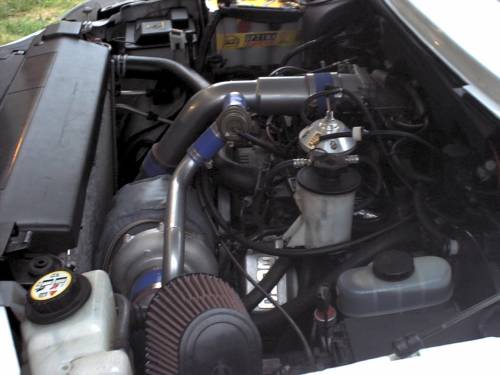 For a minimal up charge, these kits will be offered with your choice of colors on the COOL side. On the HOT side, you get a choice of FLAT BLACK or SILVER Ceramic Coating.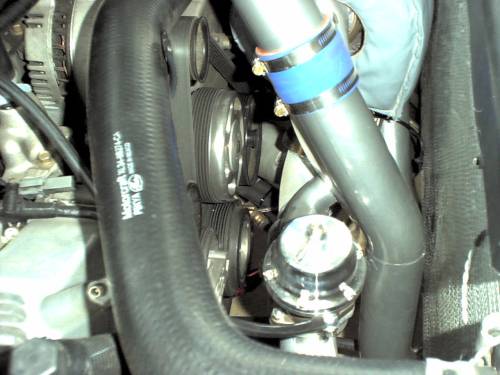 Detail shot of the included TIAL waste gate. Stage I systems are not boost referenced. A boost controller will be installed on this truck soon.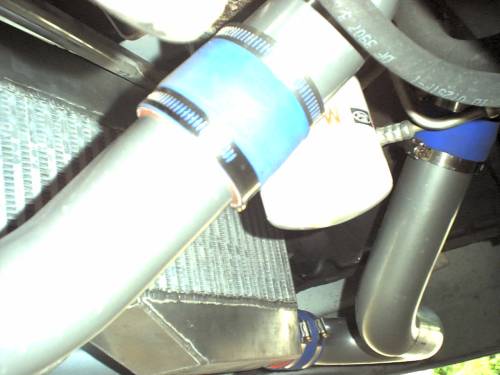 A detail image of the oil filter relocation system. It includes braided stainless lines and -AN fittings, and mounts behind the 3.5" thick intercooler! This setup allows for easy oil changes and adds an additional 2 quarts oil capacity!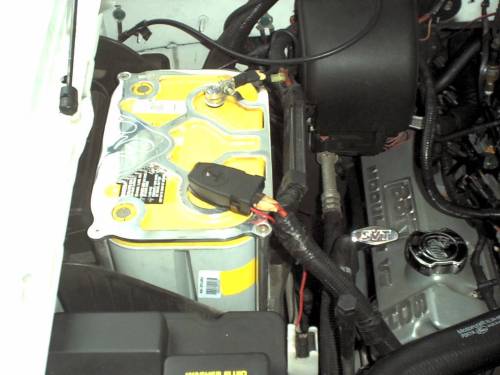 Details of the Optima battery, BBK valve covers, and trick SVT billet pieces!
System details below, and a good shot of just ONE of the Carbon Fiber pieces!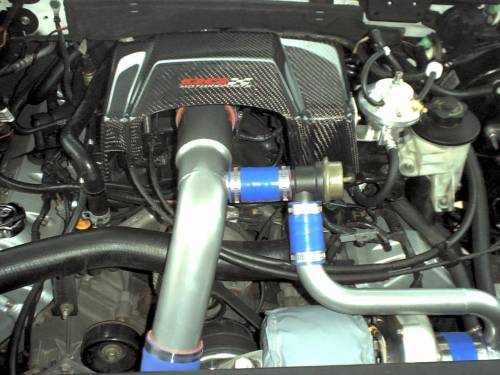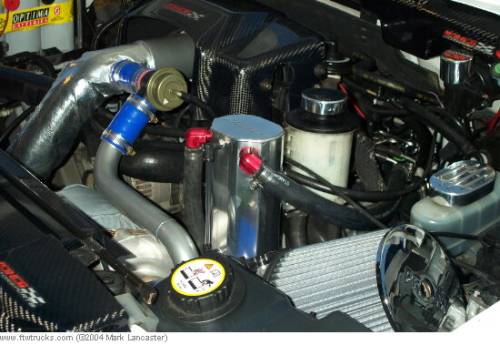 Latest image of the engine, with all TRUE Carbon Fiber throttle body and radiator covers (They match the interior trim) as well as custom BBK cam covers installed! You will also notice all T-6061 Billet Aluminum crankcase evacuation reservoir. What is hidden is the Mezier electric water pump and BILLET idler pulleys. Sweet to say the LEAST and clean enough to EAT off of!
5 years later and running 10s.... With a T-88! (Page 4)